With 23 fires currently active across Victoria and approximately 1.2 million hectares burnt, tomorrow's heat spike day brings an added elevated fire risk. Those in at risk areas of the North East and East Gippsland should leave while it is still safe to do so. Emergency Services are encouraging communities to prepare and leave.
"Our biggest role in this is helping the community, but we're in for another tough time and although we've been through this before, it is very much a shared responsibility. We need your assistance with this, we don't want anyone in those high risk areas and if you currently are, please leave. We've been really strong around the safety messaging and we will continue to push this." said Andrew Crisp, the Emergency Management Commissioner.
The map below shows the areas that may be impacted. Residents and visitors in these areas should move to safer locations today while it is still safe.
Those people in the isolated communities listed below should remain where they are as it is not safe to travel on the roads. Fire damaged trees can kill.
Wingan River
Wroxham
Wangarabell
Maramingo Creek
Wallagaraugh
Genoa
Gipsy Point
Mallacoota
Cann River
Weeragua
Lake View
Karbethong
Chandlers Creek
Noorinbee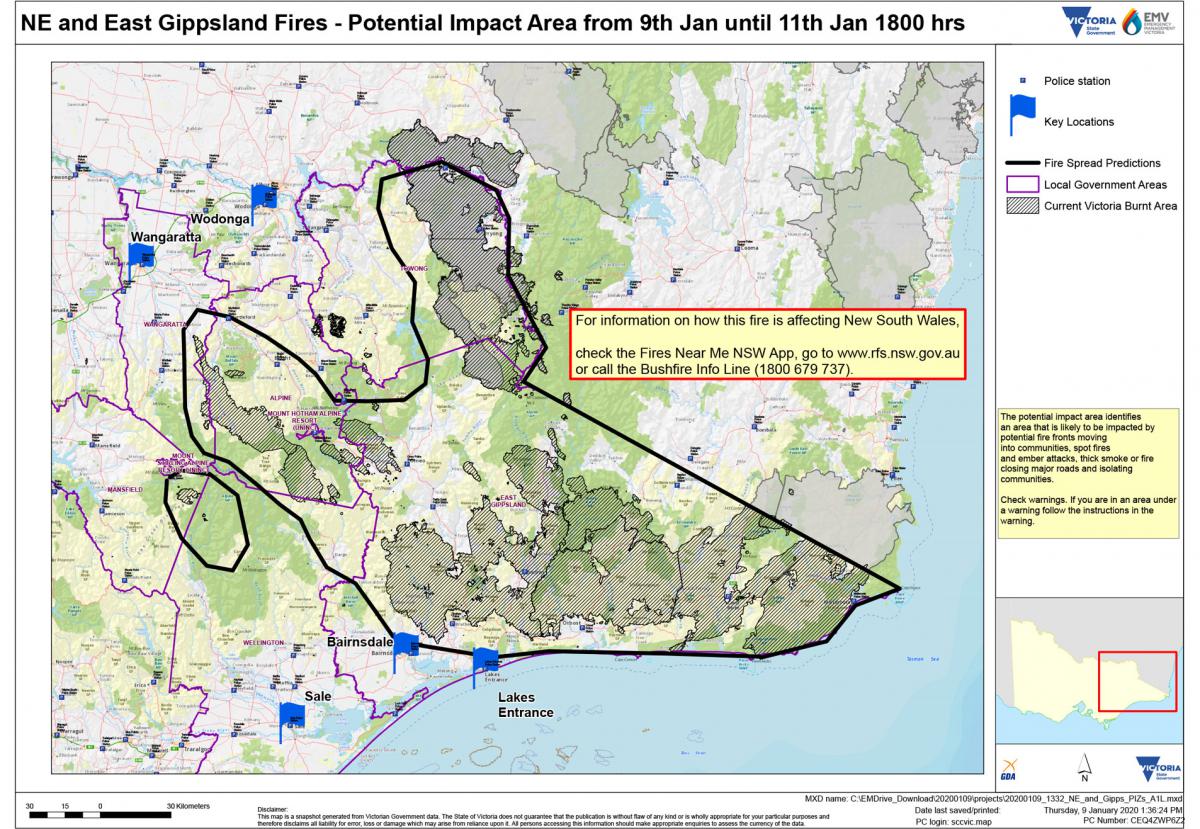 Victorians are reminded to connect to multiple sources for emergency information, including the VicEmergency app, www.emergency.vic.gov.au, tuning in to ABC radio or other emergency broadcasters including commercial and community radio stations or Sky TV or by phoning the VicEmergency hotline on 1800 226 226 and following VicEmergency on Facebook and Twitter.
A higher resolution of the map can be viewed here: https://files-em.em.vic.gov.au/public/CommNews/Community-Newletters/Map-PotentialImpactArea-NorthEastAndEastGippsland-9Janto11Jan2020.pdf?v=202001091352