Victoria's 2016-17 summer season has included a whole range of different incidents, as the state's emergency management sector made the shift to an 'all communities, all emergencies' focus. As a result, the way emergency information is provided to the community through the VicEmergency social media channels has developed and evolved to better reflect this.
VicEmergency Facebook and Twitter pages were established in the 2014-15 summer season and have steadily increased as more of the community has become aware of the channel's role in the delivery of public information and warnings.
The VicEmergency Facebook and Twitter accounts have grown to provide emergency information to Victorian communities through automated and curated warnings, video content, specialised graphics and imagery, to ensure communities across Victoria have the access to timely, tailored and relevant information so they can make informed decisions about their safety before, during and after an emergency.
The channels are also used to support our partner agencies, in shared and promoting important emergency information, as well as preparedness and recovery sources. This includes the corporate EMV channel, as well as Emergency Management Commissioner Craig Lapsley's Twitter account.
Creating informative video content has been a focus this season to enhance community engagement, along with refining the way we use images to tell stories.
On Valentine's Day, our team created two fun graphic posts, which were used to spark conversation with the VicEmergency community, increase post reach and ultimately increase followers. The post generated over 2,200 likes across Facebook and Twitter; the most likes for a non-emergency specific post seen on both channels.
On International Women's Day, a number of video posts were created about the inspiring work of some of our female leaders in the emergency management sector. The three videos received a combined reach of more than 44,000 across the VicEmergency Facebook and Twitter channels.
These posts provided the community with a personal connection and a rare insight to the lives of emergency management female leaders, who work across a variety of roles but have the same goal - to look after and protect Victorians.
Video and photo content has provided a more engaging way to inform the community, tell the stories of emergency management personnel and highlight significant weather days. It has also worked to increase followers, improve community engagement, enhance shares and interactivity on the VicEmergency Facebook and Twitter channels.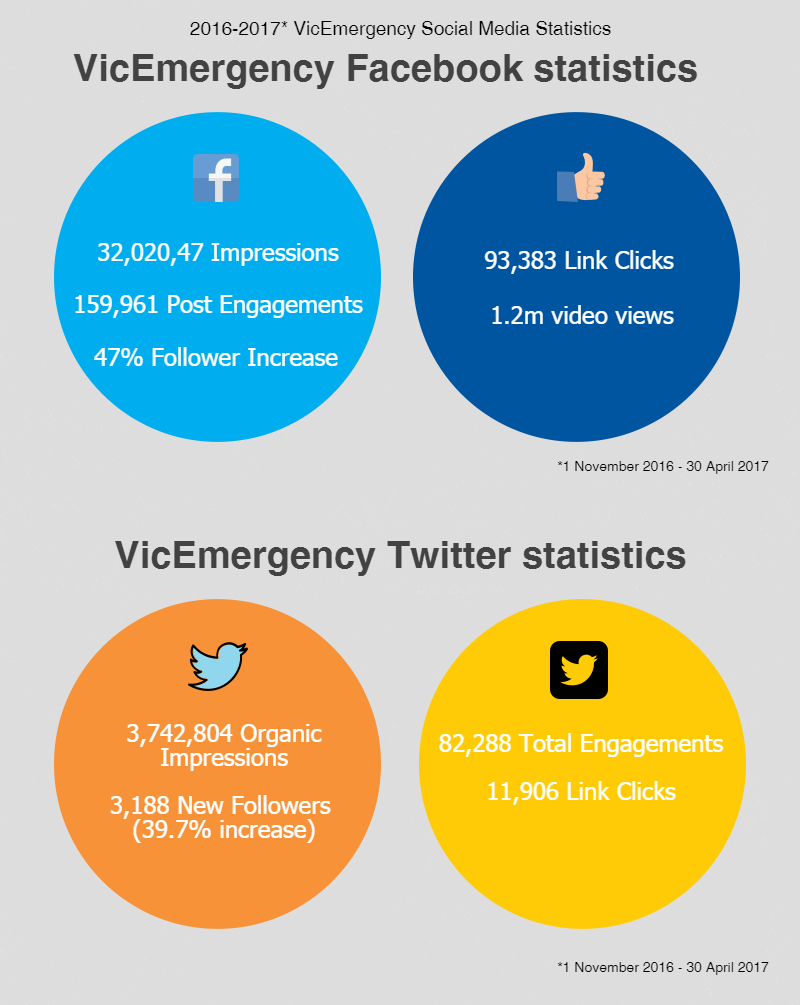 Follow Us:
VicEmergency Facebook: www.facebook.com/vicemergency
VicEmergency Twitter: www.twitter.com/vicemegerncy
EMV Twitter: www.twitter.com/EMV_news
Craig Lapsley Twitter: www.twitter.com/craig_lapsley